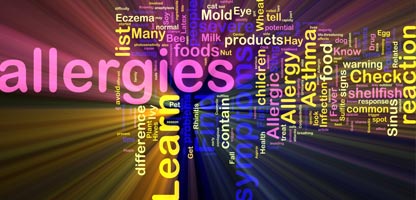 Allergy Testing using IgG and IgE
What is an Allergy

A Food Allergy is a rapid and potentially serious response to a food by your immune system. It can trigger classic allergy symptoms such as a rash, wheezing and itching. The most common food allergies among adults are to fish, shellfish and nuts – including peanuts, walnuts, hazelnuts and brazil nuts. Children often have allergies to milk and eggs as well as to peanuts, other nuts and fish.


---
Allergy Symptoms
What is an Allergy? Allergies are those things that your body reacts to immediatley; most people are aware of their allergies. Some common allergy culprits are:

Trees and pollens

Dust mites

Nuts

Cosmetics

Metals

Medications

Environmental pollutants

Food preservatives & colourings

Fungals and moulds
---
What is IgG ?
The IgG Food Antibody Assessment is a blood test that measures antibodies to commonly consumed foods. The panel also includes a total IgE measurement. The body can react to foods in many different ways. Adverse food reactions can lead to distressing symptoms and chronic health conditions. Often times it is unknown exactly which food(s) may be the cause and testing can help identify the problematic foods. Removal of the reactive foods often results in resolution of symptoms.


---
What is IgE ?
Testing for IgE food antibodies is useful for individuals who suspect that a food is responsible for causing their symptoms. The presence of circulating antibodies may affect each patient differently. According to the American Academy of Allergy, Asthma, and Immunology, "A key message is that a positive allergy test result (skin or blood) indicates only the presence of allergen-specific IgE (called sensitisation). It does not necessarily mean clinical allergy (i.e., allergic symptoms with exposure)."2 Therefore, test results should always be viewed in the context of the overall clinical picture.

Conditions associated with IgE food allergy

Hives or red, itchy skin
Stuffy or itchy nose, sneezing or itchy, teary eyes
Vomiting, stomach cramps or diarrhea
Angioedema or swelling
Shortness of breath or wheezing
Anaphylaxis



---
Identify True Allergies
The IgE Food Antibody Assessment is a blood test that measures IgE antibodies to of the most allergenic foods. The panel also includes a total IgE measurement. The body can react to foods in many different ways. The prevalence of food allergies in Western countries is rising, with up to 10% of the population affected. This trend likely involves a complex interplay between genetic, epigenetic, and environmental risk factors.

---
Items Tested :-
Alfalfa,Almond,Apple,Apricot,Asparagus,Avocado,Banana,Beef,Beet,Blueberry,Broccoli,Buckwheat,Cabbage,Cane Sugar,Carrot
Casein,Celery,Chicken,Chocolate,Clam,Cod,Coffee,Corn (maize),Corn Gluten,Cottage Cheese,Cow's Cheese (cheddar type)
Crab,Cranberry,Cucumber,Egg White,Egg Yolk,Garlic,Gluten,Goat's Milk,Grape,Grapefruit,Green Bean,Kidney Bean,Lactalbumin
Lamb,Lemon,Lentil,Lettuce,Lima Bean,Lobster,Milk (Cow's),Mushroom,Oats,Olive,Onion,Orange,Oyster,Papaya,Pea,Peach
Peanut,Pear,Pecan,Pepper (Bell),Pineapple,Pinto Bean,Plum (Prune),Pork,Potato - Sweet,Potato - White,Raspberry,Red Snapper,Rice,Rye,Salmon,Sardine,Sesame,Shrimp,Sole,Soybean,Spinach,Strawberry,Sunflower Seed,TomatoTrout,Tuna
Turkey,Walnut,Wheat,Yeast,Yoghurt,Zucchini.
IgE Food Allergy Test
When should testing for IgE Food Antibodies be considered ?

Testing for IgE food antibodies is useful for individuals who suspect that a food is responsible for causing their symptoms. The presence of circulating antibodies may affect each patient differently. According to the American Academy of Allergy, Asthma, and Immunology, "A key message is that a positive allergy test result (skin or blood) indicates only the presence of allergen-specific IgE (called sensitisation). It does not necessarily mean clinical allergy (i.e., allergic symptoms with exposure)."2 Therefore, test results should always be viewed in the context of the overall clinical picture.

Testing -Almond - IgE ,Blue Mussel - IgE,Brazil Nut - IgE,Buckwheat - IgE,Coconut - IgE,Cod - IgE,Corn - IgE,Cow's Milk - IgE
Egg White - IgE,Hazelnut - IgE,Oat - IgE,Peanut - IgE,Rice - IgE,Salmon - IgE,Sesame - IgE,Shrimp - IgE,Soy - IgE,Total IgE
Tuna - IgE,Wheat - IgE.

Cost £140



Vegetarian Food Panel

The IgG Vegetarian Food Profile is a blood test that measures antibodies to 21 vegetarian foods. The panel also includes a total IgE measurement. The body can react to foods in many different ways. Adverse food reactions can lead to distressing symptoms and chronic health conditions. Often times it is unknown exactly which food(s) may be the cause and testing can help identify the problematic foods. Removal of the reactive foods often results in resolution of symptoms.

Testing-Artichoke - IgG,Bean Sprout - IgG,Canataloupe - IgG,Cashew - IgG,Cherry - IgG,Coconut - IgG,Filbert - IgG,Flax Seed - IgG,Garbanzo - IgG,Kamut - IgG,Millet - IgG,Mung Bean - IgG,Navy Bean - IgG
Oat Bran - IgG,Parmesan Cheese - IgG,Pistachio - IgG,Safflower - IgG,Total IgE,Triticale - IgG,Watermelon - IgG,Wheat Bran - IgG
Wild Rice - IgG.

Cost £140