Voucher Redemption
STEP 1. Please fill in the form below to redeem your Voucher and NOW FOLLOW STEPS 2-3 BELOW AND PLEASE ADD allergytestinguk@gmail.com to your contact list to ensure your results do not go into your spam folders,also ensure you have the latest Adobe Updates as all results are in PDF Format..
Once you've submitted your Voucher Number.PLEASE FOLLOW THE STEPS 2- 3 BELOW

STEP 2.Please complete the Health questionnaire below and SEND it with your Hair Sample

Please Click here to fill in our Health Questionaire. Once you are finished, please IGNORE THE SUBMIT BUTTON,PRINT IT OUT put it in the envelope with your hair sample.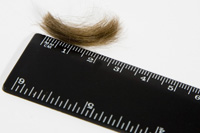 STEP 3. How do I get my hair test?


Attach 1-2 inch of thick cut hair and the same width (see picture)

Please put Hair Samples in Separate envelope and seal it.

IMPORTANT : Write on the envelope: NAME,EMAIL ADDRESS,TEL NUMBER,INCLUDE PRINTED WOWCHER .

Place the Hair Sample envelope in a new envelope with the Questionnaire.

Send it to the Address below




Allergy Testing UK,
55a Chapel Street,
Chorley,
Lancashire PR7 1BU

If ANY of the information we require is not written or incorrect on the envelope, we will be unable to carry out the test.

Our Office opening hours are Mon- Fri 9am - 5pm.

Q. What do I get with my Hair Test?
A. Depending on what test you have purchased you will also receive :­


A full analysis of your hair, given at the time of testing

Comprehensive Report of Results via email containing the TOP 15 Food Items to be avoided.

A Report covering the your Nutritional Deficiencies.

A comprehensive Health E Book covering top tips to improve your health and wellbeing.

Description of of individualised Supplement Deficiencies ( Supplements not included)
Email Support* ( see terms & Conditions)



Q. When and how will I get my results?

A. You simply post off your hair sample to us and you will receive your report within 21-­28 working days .PLEASE CHECK YOUR SPAM AND JUNK FOLDERS DAILY,as many Results end up here without you even knowing, also all Documents are sent in a PDF Format and Open Document Source, these are industry standard, and are free to download.

Q. How do you test?

A. Allergy Testing UK is immensely proud to be able to offer to the public in the UK this exciting and revolutionary Hair Health Test . It is unique and one of the only few of its kind in the UK which offers the full holistic picture, with our knowledge of the body and its nutritional needs, we examine each hair sample to ascertain your health priority at the time of testing.

We use samples of hair to carry out our testing. Hair has become a very important factor in forensic diagnostic medicine, due to its ability to store information about an individual. The government recently released information about the use of 'hair testing' as a method of tracking terrorists; where they have been and what they have consumed.

The Test is carried out by the Asyra Pro ® Bio­ Resonance System,the only system in the world that has been given Government Approval and Accreditation by the FDA ( Federal Drug Administration) for its accuracy in testing ability,hence the approval and accreditation credentials.